This morning I was doing some research and simply typed Park City into Google search. What appears?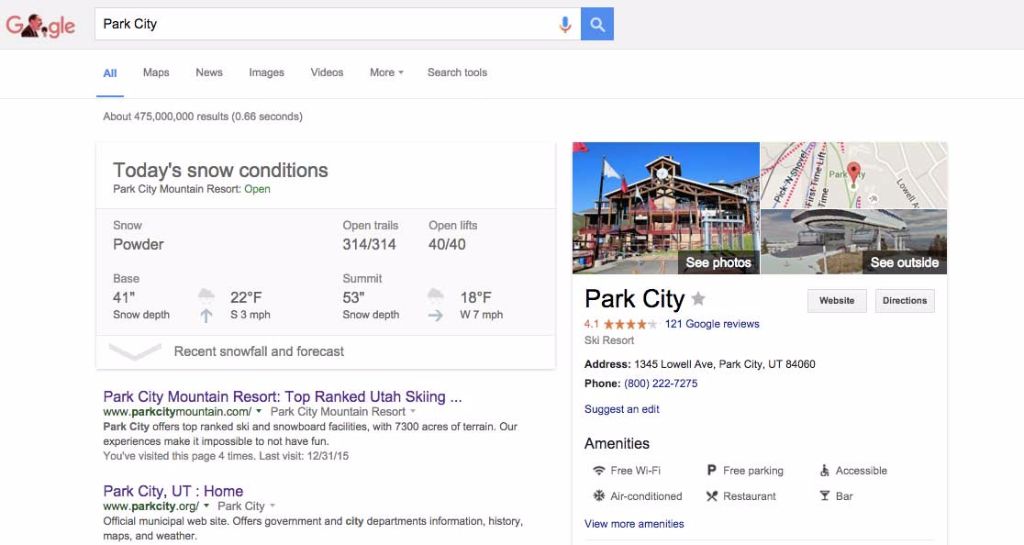 At the top you get a snow report for Park City (the resort). The whole upper right hand is a company profile for Park City (the resort). Note, it doesn't look like it's a paid result. It is the just the same thing you would see if you typed Riverhorse into Google. Below the snow report is a search result for the ski resort and below that is the site for Park City Municipal.
If I were Deer Valley I would be pissed. Deer Valley is as much a part of Park City (the town) as PCMR was. It's more a part of the town (in my opinion) than Vail is. When someone searches for Park City using Google, Vail should not own the results.
In addition, if I were a business in Park City that depended on tourists I would be very pissed. The reality is that Deer Valley will probably be fine, but what about smaller businesses that may be impacted? There are countless businesses that will lose out because they are not part of the Vail family, either because they are not recommended to visitors (who have Googled Park City and the result impacted their decisions) or because they aren't in close proximity to a Vail owned property.
The more I look at it, the more my feeling that Vail using Park City for its resort name is negative for our community. I realize that in the scheme of things Google search results are not the end-all-and-be-all. Yet it just exemplifies the problem.
In a perfect world, the name Park City would be free. It appears now both in the legal world and on the Internet that's no longer the case. That's why Park City sucks.