I was doing some research on the number of visitors that drive the Cottonwood Canyons. I'll be writing more, later today, about a report on transportation from 2012 that I've been reading. However, I wanted to share an interesting chart in that report from the Utah Department of Transportation.
Below is the average daily traffic in the Cottonwood Canyons during February from 1999-2011. See anything interesting?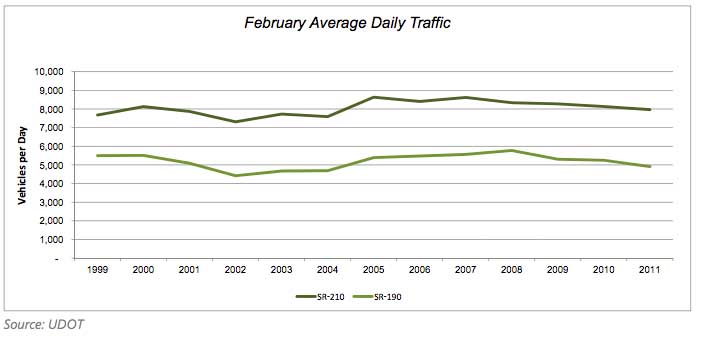 Yep, basically there has been no growth in daily traffic. In fact Big Cottonwood Canyon was down about 10% while Little Cottonwood Canyon was up only about 2% (in 12 years). I realize this data is a couple of years old and perhaps some of this is attributable increased busing, but I would never have guessed I'd see that outcome, especially since the period includes Utah's Great Awakening…AKA the period after the Olympics.
It makes me wonder if perhaps instead of trying to manage growth with the Mountain Accord, the powers that be are actually trying to increase growth in the Cottonwood Canyons.