Note: We are writing a series of articles on the Basin Rec Bond. We feel that that the "Pro-Bond" side is getting a lot of press and wanted to provide alternate points of view.

As part of Basin Rec's $25 million bond, they will be using $2.5 million for construction of a second sheet of ice at the Park City Ice Arena. There are three main issues with this. The first is that it's been 7 years since the Ice Arena was constructed and it's lost money every year.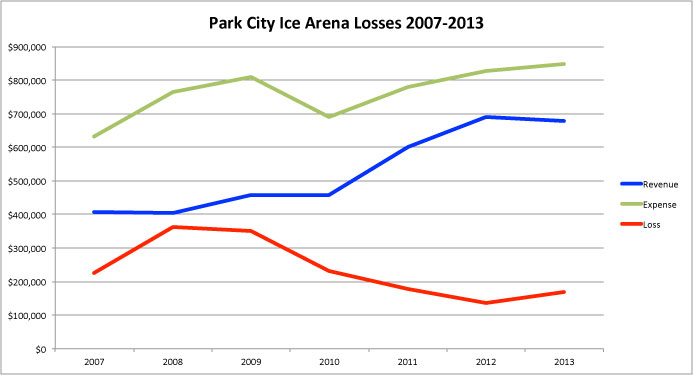 In 2013 losses increased to $170,000 per year up from losses of $136,000 in 2012. During conversations over the Ice Rink's expansion in 2013, Mayor Dana Williams commented that he believed that the initial agreement was to not consider adding another sheet of ice until the Ice Arena broke even. That appears to still be years off.
The second issue with expansion of the Ice Arena is that they say they had to turn down 94 requests for ice time, equating to 417 hours and $131,000 in missed revenues. There are two issues with this. First, that's $314 per hour. Currently they are brining in $114 per hour in revenues. This "untapped" market generates 3 times the revenue? Really? Second, the Ice Rink says there are 6,153 total hours available each year at the arena. So, they are missing out on 417 hours. Can they fill the other 5,736 hours at this second rink? More likely they would just spread out the traffic. Instead of having two ice sheets operating from 6 AM to Midnight, each making $670,000 per year. They probably have two ice sheets operating from 7AM to 10PM each making $350,000 per year.
Finally, and perhaps the biggest reason people may want to vote against the bond is that this $2.5 million that Snyderville Basin residents will be committed to for the next 21 years is for a "potential expansion of the Park City Ice Arena". What? It's not guaranteed? So the message is, please give us money, we'll potentially use it to build another ice sheet, but if we don't you don't get the money back. Wow.
So, as part of this bond issue they want residents to contribute millions of dollars to something that loses money every year, probably won't be 100% 90% 80% 70% utilized, and may or may not happen.
Like we have mentioned before, there are parts of this bond that many people probably like, like open space. However, we shouldn't be forced to make bad investments just to get the things we as a community really want. Perhaps the only way to send the message that this isn't acceptable is to vote down the entire bond and make them come back with individual bond offerings on the next ballot.
As always, the Park Rag does not officially endorse any candidates or many positions. You may think that adding another sheet of ice is vey important to our community…and that's your right. We just want to point out potential issues we believe people should consider when voting this November.