This morning, on KPCW, Leslie Thatcher interviewed school board member Tania Knauer. Ms. Thatcher asked Ms. Knauer about removing reading aides from our elementary school classrooms. The exchange was as follows:
Leslie Thatcher: There is a petition moving through, lots of churn on social media with regard to reading aides and the fear from parents that the district is taking away reading aides. Is that the case?
Tania Knauer: Yes. But we are also basically looking at reallocating resources because our scores show that our current reading program is ineffective. We have 7.4% of our 11th graders reading at proficiency and these are kids that have been with us up to 10 years. We are missing something somewhere. So, all educational program need to evolve and especially when they are not showing progress. So we actually have 22 people as reading aides which comes out to 12.8 FTE and something we've heard from our classified people is that they really want full time jobs and benefits. So basically we are turning those into 14 full time job, 32 hours a week which is 11.2 FTE and we are giving them all benefits. We are having higher quality classified jobs. Those 14 aides will then be in our Full time Kindergarten classrooms. We'll have a full time gifted person, an intervention specialist, as well as an instructional coach… and these will all be licensed educators that will be providing the support that teachers need.
I probably need to clarify the lead statement by Ms. Knauer. I don't believe only 7.4% of our 11th graders are reading at a proficient level. If so, Park City School District should be worrying less about being the best school district in the country. Yet, I'm not sure which group she was referring to. Here are this year's sage results for 11th graders in Park City: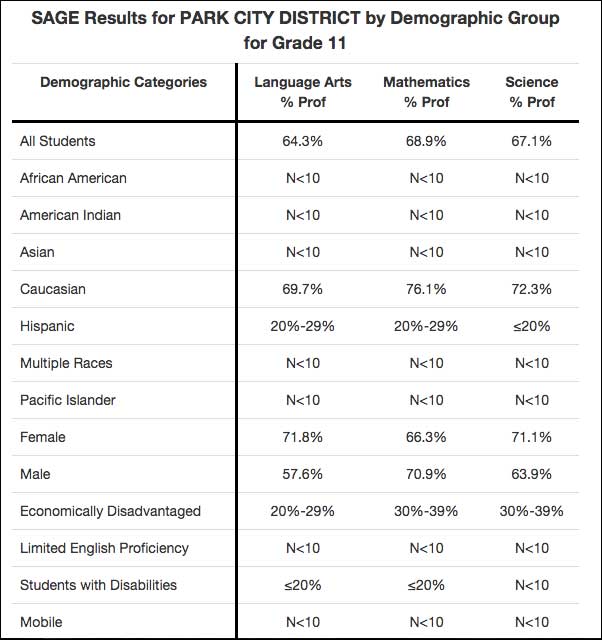 Let's say Ms. Knauer was referring to groups classified as Hispanic or Economically Disadvantaged, which both are at the 20%-30% proficiency level. While not 7%, those levels are still not acceptable. Given that, I have three questions:
Will shifting reading resources to kindergarten improve lower performing groups proficiency throughout elementary school and ultimately in ten years (once they hit 11th grade… which seems to be the school district's measure)?
What is the impact to other populations from losing these aides in elementary classrooms? Will our reading proficiency (for the majority of students) stay at the level it is now (or improve)?
What's the impact on elementary teachers and their ability to teach (all subjects) without reading aides?
I think the school district is taking a big gamble with this. In order to call this change a success, they'll not only have to show that lower performing groups reading skills are improving but that the majority of students weren't hindered by this move.
What they risk is that many of these high-performing reading aides will find satisfaction elsewhere. If we find that our gamble didn't pay off, there may be no way to get them back.
I don't begrudge the district for making changes. It is much easier to do nothing than to stick one's neck out. Yet, I wonder if they are putting too many of their eggs in one basket. That one basket seems to be that all day kindergarten, with enough resources, will solve our biggest problems. I'm not sure the research actually bears that out.
It will take a while, but we'll eventually see whether the gamble paid off. I suppose that is at least one benefit of standardized tests. By 2020 we should know whether decisions made by our school district and school board were wise. If so, we should heap praise on those who stuck their neck out. If not, we'll need to remind those people who made these decisions, and are still in our community, what damage was done.
And this is a big enough decision that there should be no excuses.
I have kids starting in kindergarten in the next few years, so I hope the district is successful (whether they plow forward or decide to take a step back). If they move forward with assigning resources to all day kindergarten, I just hope their gamble pays off and they have chosen wisely. If not, the line of people waiting to say "I told you so" may be very long.