As many people know, a developer wants to restructure a development agreement for an area across from Ruby Tuesdays called "Canyon Corners" in order to put in a new Whole Foods (and other retail). I previously had concerns that the "Tap Room" addition to the grocery store should require the developer to meet both affordable housing requirements and traffic impacts like its both both a grocery and a bar/tavern.
This Tuesday, the Snyderville Basin Planning Commission is holding a public hearing regarding the Canyon Corners development. In the Staff Report, it makes reference to the tap room and says:
"At the May 12, 2015 Planning Commission meeting concerns were expressed that the use of Building A would exceed that of a grocery store, as there was a "tap room" proposed. The applicant has clarified what this would entail, and indicated that it would be an additional component in the overall deli/prepared foods area of the store. There are no plans to use the site as a type of night club, bar or speakeasy, rather the applicant envisions it as secondary to the primary use."
First, as I stated in the previous article, I love the idea of a tap room. I just wish it could have Rogue Dead Guy Ale on tap. That said, traffic and affordable housing are big issues and we need to make sure we account for each appropriately and accurately in every development agreement.
While it appears there are assurances from the Developer that the tap room is just part the deli, I'm not so sure. First, let's look at the press release from Whole Foods:
"This store will be the first Whole Foods Market in Utah to feature its own taproom with local beer and wine on tap, as well as a world-class resort pub menu with separate fast casual dining and pub seating inside the store."
That doesn't sound like it's just part of the deli and prepared foods section.
Second, do a quick search for Whole Foods Tap Room on Yelp. First, your average Supermarket Deli doesn't get lots of Yelp reviews. I happened to look at Reno's Whole Foods Tap Room. Here is an example review:
"Great beer selection & tastes food. Bartender was kinda swamped, they need more servers, but she was nice (and hot). Would recommend if you are looking for great beers and delicious food. Only complaint was the hippy guy bugging me about how awesome the place was ( I am pretty sure he worked at the whole foods). Anyway, go, drink, eat."
Again, this doesn't seem like the soft drink station next to the slices of pizza. It seems like, well something similar to the Red Rock in the Salt Lake City Airport. It's not going to be a Studio 54 but it's not going to be the 6 chairs in front of Starbucks at Fresh Market either.
Third, let's look at the menu of one of the Whole Foods "Lone Elm" Tap Room in Kansas. It seems like your average brewery menu. Here is page 1 of the the Tap Room's menu. They do seem to vary by location, so perhaps we have guarantees that this won't turn into a mini Squatters.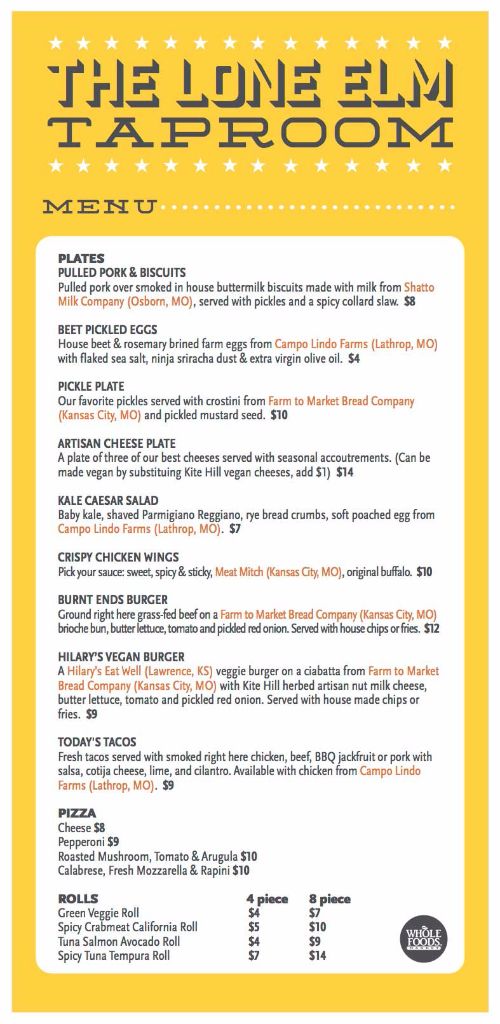 The final reason I have concerns over this is related to what these look like. Here are some pics of Whole Foods Tap Rooms: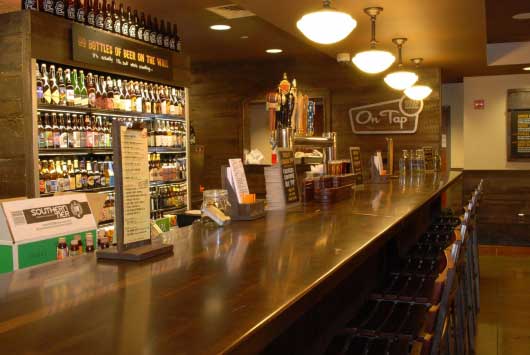 Please don't get me wrong, I hope the new Whole Foods has a tap room, and I hope it is was on the most unique bars and restaurants in Park City. I hope it ends up with an outside patio. I even hope they follow the lead of the Whole Food Tap Room in Columbus that let's local breweries take over the bar for "Thirsty Thursdays."
Yet, I also know how much of a mess traffic can will be on Landmark Drive by the Outlet Mall. If the tap room component of Whole Foods reaches anything near its potential it will exacerbate that. Likewise, while there is now an affordable housing component to this development, it should be in line with those required by a bar/restaurant. Perhaps not at the full requirement but somewhere in between.
I hope when the Planning Commission looks at this part of the development, they will go beyond what the developer says and plan for the likelihood that this little bar and restaurant is going to be pretty busy.