We were doing research after yesterday's visit to the Kimball Junction Transit Center. We happened upon the following document on Summit County's website.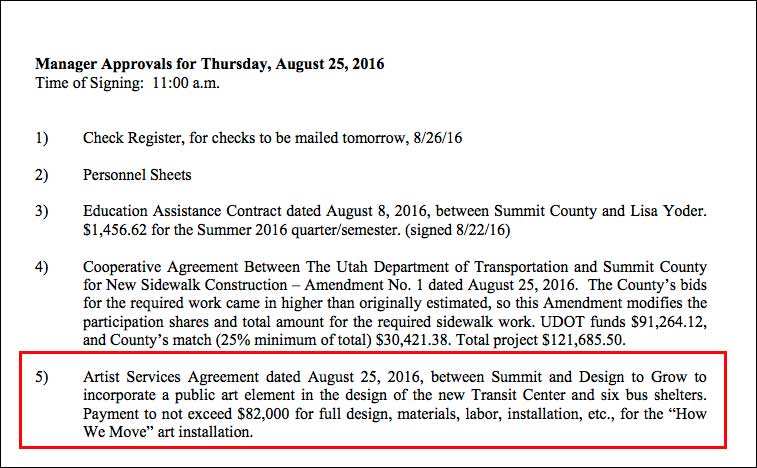 It appears the County has agreed to pay up to $82,000 for artwork for the new Kimball Junction Transit Center. We freely admit that we are not art aficionados and we've have taken enough art classes throughout our lives to know that art is in the eye of the beholder. Still, eighty thousand dollars for art in a transit center seems over the top. So, what are they planning?
According to Park City Magazine, "Inside the transit center, riders are greeted by an interactive wall display made up of images informed by the viewer's actions, captured and translated in real time by a movement sensor…Outside, transit riders will find a series of aluminum sculptures adorning the center's six bus shelters."
We suppose that all sounds great… again each to their own on art. Then the Park City Magazine article reminds us of why we are skeptical. It says, "When members of the Summit County Public Art Board decided two years ago to include a budget for a public art installation, their goal was to create a piece that would stimulate ridership on public transit." They believe this $80,000 "investment" in art will stimulate ridership?
We've been to Moscow, where every subway station is an ornate piece of artwork. Did this encourage us to ride the train more often? No. We only road it if it was more convenient.
Will a combination of a projector, a screen, motion sensors, and some aluminum placards help fix our transportation issues? We suppose we won't know until mid January when it is released. However, we would guess that long-term impacts are minimal.
$82,000 seems like a lot to spend on artwork for a transit center that few people will ever see.
$82,000 is a couple of teachers. $82,000 is a couple of bus drivers (or raises for the existing drivers). $82,000 is a lot of road repairs $82,000 is real money.
We don't begrudge the art. We're actually excited to see what they come up with as a part of this project (the technology sounds very interesting). However, the fact that the county is willing to spend eighty two grand for art at the transit center seems excessive.
It seems like money that could be spent in a much better way to solve our problems.