Imagine you wake up this morning to the charges that seven Park City School District employees failed to report child abuse, which is required by law. These include one incident of a teacher allegedly touching a boy's penis and two other alleged cases of rape. You may ask yourself, "Could this happen to my child, and would I know?" Perhaps more frighteningly you may wonder, "Has this happened to my child and I don't know?"
Would you go to an amusement park if they were charged with violating safety requirements on their rides? Would you eat at a restaurant if they were charged with food poisoning? Should you send your children to school if it is likely that on three separate occasions (that we know of), school personnel didn't report child abuse?
However, it gets worse, if possible. According to the Salt Lake Tribune, Summit County Attorney Margaret Olson decided to file charges, before the investigation was finished, because the school district failed to report another case last week — while the district knew it was being investigated. "I was troubled that the school district, knowing there was a pending investigation, still failed to report a case last week," Olson said.
So, you are being investigated for not reporting child abuse, which is required by law. During that investigation, you allegedly don't report more child abuse. So, you've forced the County Attorney to file charges immediately to get your attention and hopefully prevent future cases of child abuse. I feel like I am watching an episode of Cops, instead of commenting on our schools.
What was the district's response? Here is an email sent out to employees: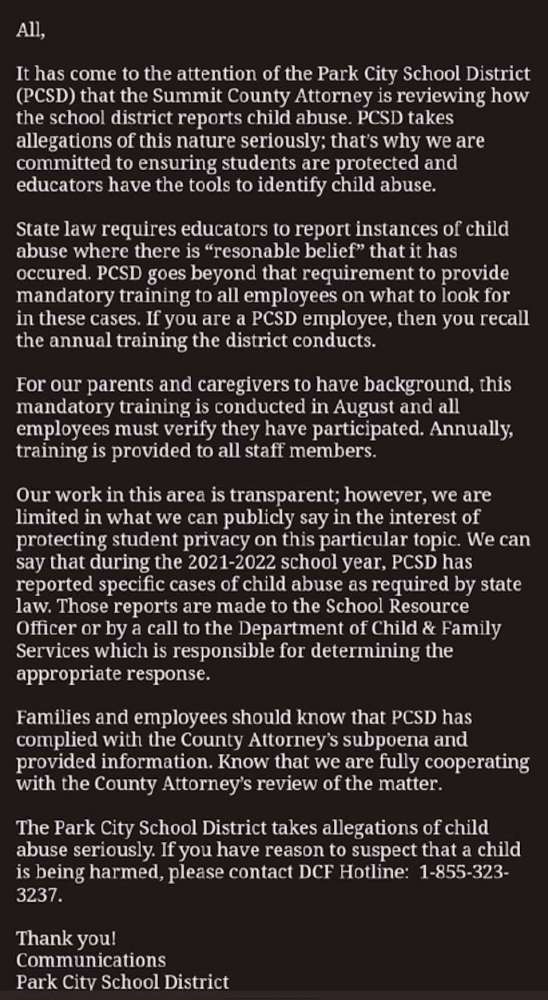 My response to this is:
The County Attorney is not reviewing how the district handles reporting of child abuse. She has charged the district with breaking the law. There is a difference.
They say, "if you are a PCSD employee then you recall the annual training you receive." I feel like I am reading Orwell. Teachers probably don't need to be reminded of what they recall.
They say, training is annual and employees have to acknowledge the training. I don't believe the requirement is training. The requirement is that personnel report child abuse. Obviously, more needs to be done.
They claim that the district has reported cases of child abuse in 2021-2022. Great. How many times did they not report cases in 2021-2022? Where is the promise of an internal investigation. Where are they committing to getting better?
Finally, they comment that the district is cooperating with the County Attorney. Good choice. If they weren't, I'd hate to see what would happen at this point.
This reads like a CYA memo. The truth is that this email and a similar email sent to parents are basically saying, "we did nothing wrong."
Then we have the prepared statement from School Board President Erin Grady. "We take these allegations seriously and as always prioritize the safety of our students so that they can reach their academic and social potential. We ask that the public is respectful of the district administration and allows this process to play out before assuming any negligence or bad intent."
We as a community may have been willing to let this "play out" until we found out that while the district was being investigated, another case of abuse allegedly wasn't reported. If we let this "play out" who knows how many more non-reported cases of abuse there will be. Something needs to be done and done NOW. Even if the school district is ultimately found not guilty of these charges, what's the harm in providing more focus on reporting and preventing child abuse RIGHT NOW?
It is fair to ask whether this is the responsibility of Superintendent Gildea or the Park City School Board. I do believe that employees are supposed to complete training and that they are supposed to acknowledge that training. Likewise, Dr. Gildea and the School Board aren't omnipresent in every school at every moment. Yet, the buck has to stop somewhere. Someone is ultimately responsible. If the allegations are true, the employees who specifically should have reported the incidents are responsible. If this is an organizational failure, then the responsibility also goes to the highest levels.
County Attorney Margaret Olson provides an answer to that when she said their investigation has found "systemic and institutional failure." That makes it fairly clear that the Park City School District, as a whole, has a problem.
Unfortunately, the effects of that problem rest on the shoulders of our most vulnerable — our children. Growing up in a place as wonderful as Park City should be a joy. For many, it probably is. However, it is our responsibility as adults to help those in need. It's our job to look around the corner and take care of those people who can't take care of themselves.
If children are being sexually abused … If they are being raped… If district personnel knew and didn't report it … and our district leadership responds with, "teachers have annual training" and "allow this process to play out" then we have a real problem.
Worse than that, our children have a real problem. It's one they have to try and live with every day.
It's a tough time to be a kid growing up in Park City.