In the wake of Vail's takeover of PCMR, there was a common reaction, "this isn't going to be the Park City we used to know anymore." It was lamented that Big Corporate Vail was going to strip the essence of the Park City and replace it with resorts for the rich, expensive homes, celebrity-only events, and lots of outsiders. Ummm…
The truth is that this already isn't the Park City that mine workers remember from the 1960's, or the Main Street from the 1980's, or the run up to the Olympics of the early 2000's. Park City was already Vail, it just didn't have the name. It's funny, if we would have paid attention to what has been going on around us for years, we would already know that. There is no better way to illustrate that than with the Sundance Film Festival.
Sundance, or as it was called at the time, The Utah/US Film festival, began in 1978 in Salt Lake with the Robert Redford and the Utah Film Commission behind it. "The goal of the festival was to showcase strictly American-made films, highlight the potential of independent film, and to increase visibility for filmmaking in Utah." Films like Deliverance, A Streetcar Named Desire, and Midnight Cowboy were inaugural films in the festival. In 1981 it moved to Park City and officially became Sundance in 1984. By 2010 critics were charging that the festival was no longer about small-budget, independent creations from outside the Hollywood system but instead was a media extravaganza for Hollywood celebrity actors, paparazzi, and luxury lounges set up by companies not affiliated with Sundance.
Much like Sundance, Park City had become unweidly. No longer was it about the Utah Film Festival or about promiting Utah films, it was about seeing Van Wilder Ryan Reynolds ride his scooter to Silver. It was about which celebrity did you see. It was about parties you could never get into. It was a place for the rich and famous from LA to vacation for a couple of days with their cohorts. That's all fine, but it is not the Park City that people remember.
Then in 2010 Banksy, a renowned graffiti artist, came to town. He had a film called Exit Through the Gift Shop playing Sundance. Banksy has a way of telling it like it is. He is famous for quotes like "We can't do anything to change the world until capitalism crumbles. In the meantime we should all go shopping to console ourselves." When his film was nominated for an Oscar he noted, "This is a big surprise… I don't agree with the concept of award ceremonies, but I'm prepared to make an exception for the ones I'm nominated for. The last time there was a naked man covered in gold paint in my house, it was me." It's all tongue and cheek but yet telling.
During Sundance 2010 Banksy spent his time tagging 10 sites in Park City and SLC with graffiti. That is what he does. Park City was doing what it does and was on its way to becoming Little-Vail. By then Sundance was bringining in $65 million per year into local economies. Within days of the graffiti, two things happened. The Park City you used to know and love did what you would imagine it would do, and cleaned and painted over the graffiti found on some of its walls. The new Park City was ready to exploit the opportunity. One of the Egytian Theater's doors was tagged with an image of a rat. They took the door down and put it in storage.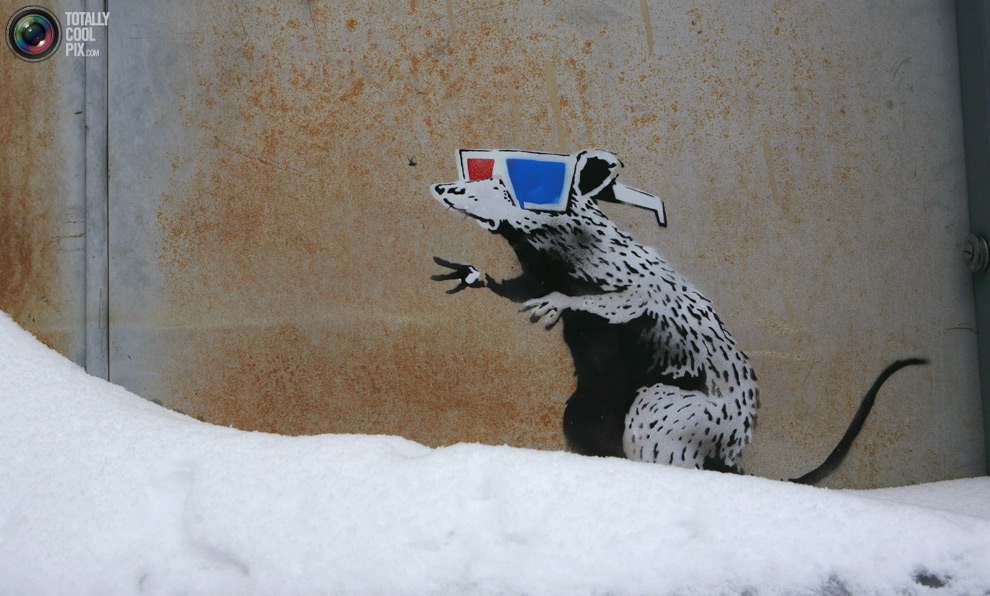 Three years later, they lauched a Save Our Banksy intiative where they want $3 million from Park City locals and Banksy Lovers so they don't have to auction the art off to a wealthy art collector. What would Banksy probably have preferred? Just leave the door on the wall and let people enjoy it as long as it lasts.
Others would say, "But what if it gets vandalized? What if someone spray paints it?" That's just what happened to a couple of pieces that had graffiti put on top of Banksy's graffiti art. Summit County then spent months tracking the man down and has ultimately had a judge rule that the vandal must pay $13,000 in restitution. I can only image Banksy saying "How is my graffiti right but his is wrong… except that his lacks complete talent." The time and effort spent on finding the man and trying him could have been used in so many other ways. Yet, since Park City is what it is now, there was little choice.
As we look back on what Park city has become, it is no longer what may people remember. Robert Redford agrees. This no longer is the little film festival Robert Redford dreamed of. This year Redford said, "How can I not be satisfied about a success? But those earlier years felt best. They're taking away some of the textures and qualities that were here that gave it a kind of intimacy. It's no longer the place it was. I don't like what's happened."
He summed up Park City perfectly. Park City hasn't been what it once was for a long time. It's now a town with a $125 million movie studio, $2600 per night hotel rooms, and California-style traffic. Vail didn't bring this on us, it has been headed our direction like a freight train from Coalville. If we would have paid a little more attention maybe we could have decided to take a different path. At this point, maybe we should just try to be the best Little-Vail we can be.