Opening day for PCMR and Canyons is tomorrow (11/20). Covid-times has turned what is usually an exciting time into a time of anxiety for many people. However, in many respects, it is a miracle we will have a ski season at all.
Enter Vail's reservation system for Park City Mountain Resort. No longer can you just show up and ski with your Epic Pass. You need to make a reservation. When this was announced in late summer, people worried about whether this would impinge upon their ability to ski or ride.
However, Vail showed confidence and told us locals that we didn't need to worry. The reservation system was really for those peak times like Christmas week and President's Day. The Park Record posted an article about the reservations system and ran quotes from PCMR saying, "But we want to remind people that there is no need to worry or rush to reserve your days. Reservations are exclusive to pass holders through Dec. 7 and for the vast majority of days this season, we believe everyone who wants to ski or ride at one of our resorts will be able to." They continued, "For the vast majority of days this season, we believe everyone who wants to ski or ride at one of our resorts will be able to…"
So, reservations began yesterday at 2PM. I logged in at 2:04 and was greeted with the message that I was 50,000th in line (that's across Colorado resorts as well). I was able to get a Saturday reservation for the family at PCMR. However, then reports started rolling in that by early evening the only day available to ski was Tuesday. As of now, there are no days available to ski at PCMR in the next week (the reservation period that Vail uses).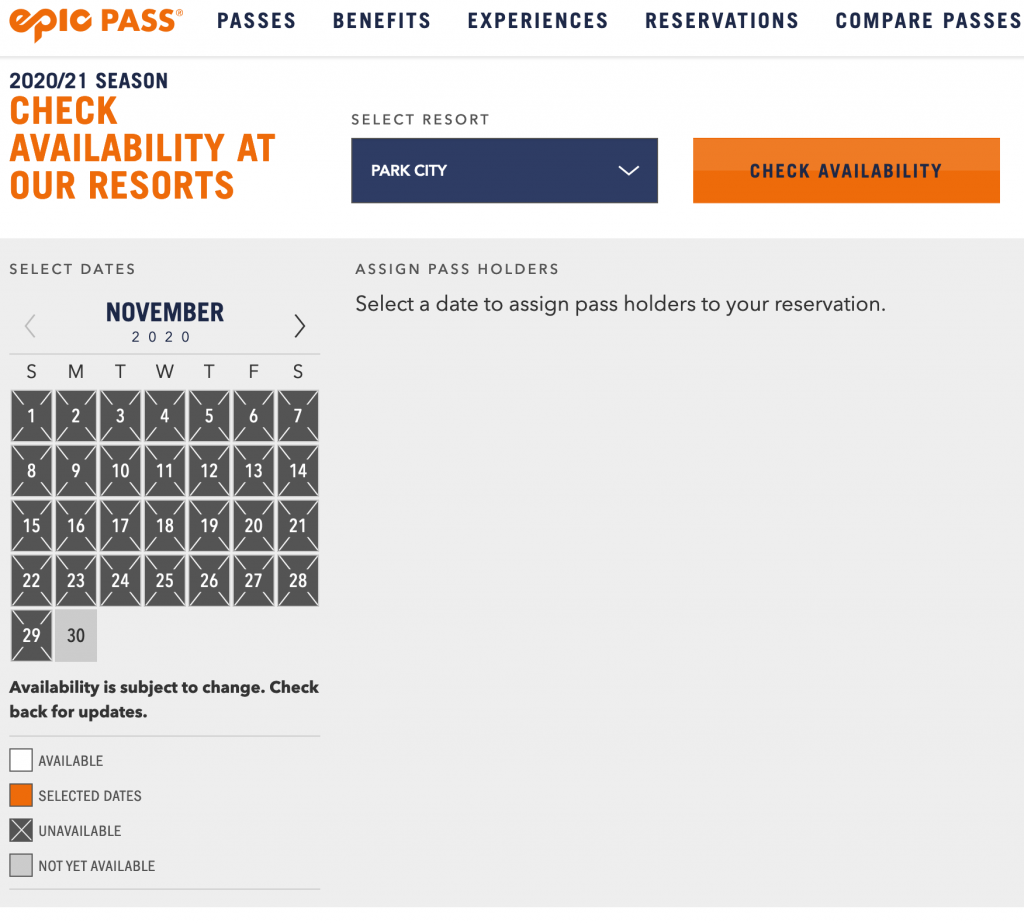 This is likely due to a lack of snow and only a few runs being open. It's also likely due to the extreme number of passes being sold. In recent memory, I know opening day at PCMR is busy, but I don't remember Thanksgiving week being particularly crowded.
What I hope is that this isn't a harbinger of things to come. If you have to log in between 2PM and 3PM on every Wednesday and then wait for an hour in line to try and reserve a space, that will be miserable. God help your chances if you aren't fortunate enough to be working around a computer.
Likewise, if every day has maxed out Vail's numbers, what are those lift lines going to look like? What's the experience on the mountain going to look like? IS DV going to look any differently?
Regardless, if you really want to ski the week after Thanksgiving, I'd be in Vail's Waiting Room at 1:59 PM on Thanksgiving Eve. If you try hard enough, you may get to ski if you really want to.