Riverhorse on Main wants to enclose its upper deck to enable service of additional customers during the winter. The concept is expected to look similar to this: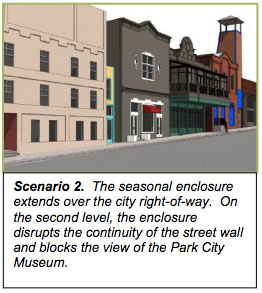 The City appears to be against this because they feel the structure impacts the historic nature of Main Street. They say "These balcony enclosures also threaten the historic integrity of historic commercial buildings. Staff finds that the proposed enclosures do not meet the Design Guidelines for Historic Sites."
Our only question is, if that's true, and a reason to prevent this… aren't the plywood decks constructed for summer dining even worse? We realize they are 5 feet away from the buildings, but that's splitting hairs. We don't see how you can allow the summer decks but prevent the winter ones, especially when the winter ones will look better. If you want to maintain "the historic integrity" of Main St then ditch the summer decks too. Otherwise, realize that the purpose of both summer and winter decks is to meet customer demand and allow them both.