In the wake of the school bond defeat in early November, some of the school board members have done an admirable job meeting with the public to understand why people were against the bond. This is a very encouraging sign that hopefully the relationship between the board and the public won't be adversarial going forward.
Yet, every once in a while something pops up and still makes me shake my head. If you recall, one of the chief school board arguments for needing the bond was because our schools were at capacity. Board members and district personnel often presented this chart to the public to demonstrate capacity: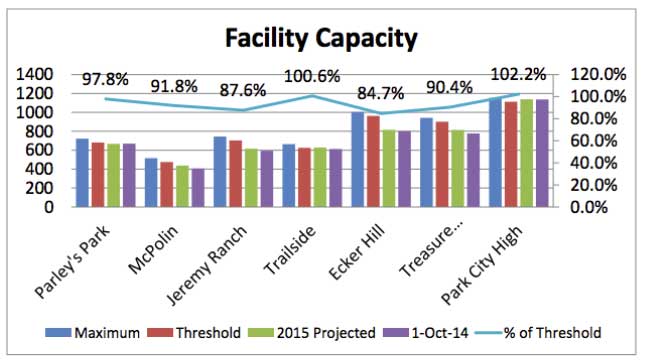 I believe this chart was generally driven by open enrollment number calculated by the school district. Here are the Open Enrollment numbers for 2015-2016:
The high school and Trailside were closed, which means out of district students weren't generally eligible to enroll at those schools. Keep in mind that the argument of "full schools" was being made up until election day. A few days after the election, the 2015-2016 open enrollment numbers were released: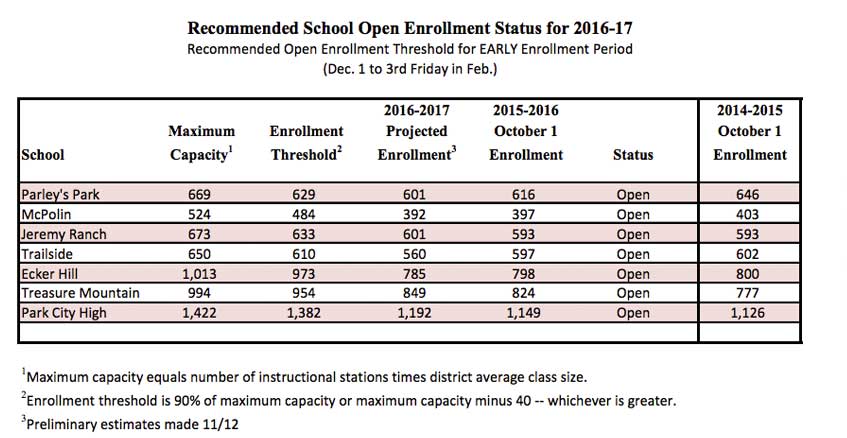 You may now notice that the high school's capacity has increased by 23%. You may notice that Parley's Park's maximum capacity increased by 8%. You'll also see that capacity went down at some of the schools. The issue is that a few weeks ago we were being sold that our schools were full. Today we find that, at least per this estimate, that our schools aren't going to be full.
I'm not arguing that there is some grand conspiracy to inflate and deflate numbers. After all, these numbers are driven by state of Utah formulas. According to School District representatives, changes to capacity at the high school are influenced by renovations that are occurring there. Capacity at our elementary schools are influenced the reading program being brought back into the classrooms (and out of dedicated rooms). So, there is a method to the madness.
Unfortunately, we as voters were told by the district that the schools were full. However, we weren't told that other crucial piece of information before the election… that in about 10 days they wouldn't be "full" anymore. School board member Julie Eihausen, during a recent school board meeting on the topic, said what I'm sure many people were thinking. She said, "I'm trying to wrap my head around how we went from 5 of 7 schools at capacity to having none." The answer from the district Business Administrator, Todd Hauber, was that there were additional instructional spaces now and that the average class sizes had changed.
Yet, for me it's still a matter of trust. Wasn't the fact that our schools weren't going to be full known before the election? If they weren't going to be full and the district knew it, why wasn't this told to the public? It's like your child telling you their school day was good, but leaving out that crucial part about getting detention. Going forward, there's a lack of trust that now will require extra vigilance.
It's the same here. When the school district goes for their next bond (likely in 2016) and says anything about their enrollment numbers, how do we know we can trust it? While before we took them at their word, now someone will need to stand up and ask: "That high school capacity number what's it based on? When was that calculation done? What's changed since that number was created? Will anything else be changing that's driving these numbers? Are these capacity numbers what a lay person would consider real capacity? When was your last projection for student numbers? How has that changed since then…etc…etc…etc…"
I suppose it's not just these numbers that should be carefully vetted by the public. Any estimates done on timelines, construction costs, or needs likely should be carefully analyzed. For instance, I think most people believe that Treasure Mountain Junior High should be torn down. I didn't start with that opinion, but I probably agree now. However, my agreement is largely based on the fact that there were 3 studies done that showed the costs required to maintain the building were in the $20 million range (almost as much as a new school). Yet, now I want to look at those studies. I want those to be passed by someone in our community with the knowledge to confirm that THE REQUIRED REPAIRS will cost almost as much as new school, so we might as well spend our money wisely. Perhaps the studies were all done in the right way. Perhaps, the costs estimates were only for the things that we HAD to have. Perhaps the studies' findings were black and white and there could be no other argument other than to tear down the school.
But perhaps they weren't.
That's the problem with trust. Once it's questioned, you start looking at everything (whether there is something there or not). As they say, fool me once — shame on you…fool me twice — shame on me.
It's a great thing that the school board is working with the public to understand the pieces of the bond that the public doesn't like. Yet, as the district gears up for the next bond, things need to be different the next time. Fair or not, the school district was already living in the shadow of cost overruns for the last renovations done to the high school. They were living in the shadow of running out of money in some of their funds, thus causing taxes to be raised. Now they are living under the shadow of how they used and presented capacity numbers.
At some point, that shadow's going to be so dark, it's going to be really hard to find their way out.