We just received a release from the Park City School District citing a threat made about the Kearns Campus back in October, 2015 that mentioned today's date (May 3, 2016). Therefore, you may see an increased police presence today.
Both the district and police department are doing the right thing by being vigilant. Most likely this was just a threat made by an idiot, but you never know. Hopefully they will catch and prosecute the person who made the threat to the fullest extent of the law.
However, this does serve as a reminder that there are bad people in this world and it's our job as parents, educators, and community members to teach our children what to do in a situation like that. Of course, opinions vary on the right strategy for your child in the case of a school shooting, but here are a few opinions:
How to Teach Your Child to Survive a School Shooting
Three Things Your Child Can Do to Survive a School Shooter
The other thing to point out is that many people have been opposed to Utah's laws that enable teachers to carry concealed weapons. Yet, it is likely that just the mere fact that some teachers will be armed on the Kearns Campus will prevent someone from committing violence at our schools.
Of course, people who commit these types of crimes aren't always logical. Therefore, the care our schools are taking in the situation makes complete sense.
Here is the press release from the district. If you have questions, you can contact the Office of the Superintendent at 435.645.5600.
.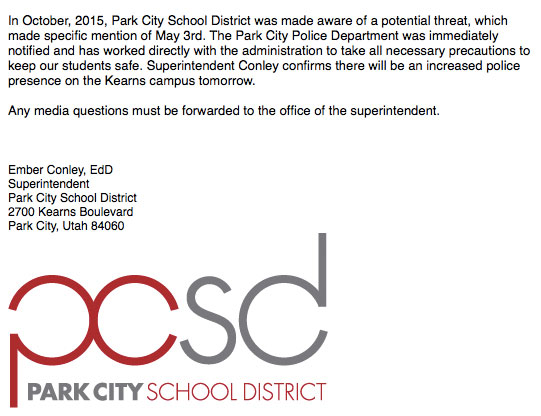 Update: A reader wrote in and said that a comment in the story about "people with mental illness aren't always logical" was out of line. I have responded in the comments below, but she is probably right. I didn't intend to generalize anything about those suffering from mental illness or imply that most people with a mental illness would somehow be violent. I have changed the article to reflect this. Thanks to the reader for pointing out this out.