We guess 1,191 Parkites aren't enough.
Breckenridge has reclaimed the title of World's largest Shot-Ski from Park City.Last year, 1,191 Parkites lined up and down Main Street, to sip alcohol from a single shot ski. We assume many of you participated. We wanted to but [insert excuse right here].
Park City set the world record.
Not to be outdone, it appears Breck has topped us… by 43 people.
That said, they looked like they were having a lot of fun while doing it!

Your turn to up the ante, Wasatch Brewery!
The Summit County Council has made the decision to purchase the Cline Dahle parcel, located between Burt Brothers and Jeremy Ranch elementary. The county has said they are considering putting transportation and/or affordable housing at the location. It may very well become the Park City area's first Transit Oriented Development.
That said, no official uses for the property have been announced.
Below is the press release from Summit County:
---
County Manager Moves Forward to Exercise the Option to Purchase Cline-Dahle Parcel
Coalville — Yesterday Summit County Manager Tom Fisher gave notice to exercise the option to purchase a nearly 30-acre parcel adjacent to the Summit Business Center on Rasmussen Road. The Option Agreement between Summit County and Rasmussen Road, LLC, was entered into last March and had a January 20, 2017 deadline to exercise the right to purchase. The total purchase price for the parcel is $3.7 million, with an initial option fee of $100,000 which is credited against the purchase price. Both parties have until February 17, 2017 to close on the agreement.
Over the past few years, Summit County's employment growth outpaced both population growth and residential building permits and, on a daily basis, more than 13,000 workers commute into the County for work. Without intervention, this imported labor and associated vehicle trips will continue to increase–compounding Summit County's current traffic and traffic related issues.
Affordable housing has been another significant concern for Summit County leaders. The essential workforce that supports daily living and the tourist economy can no longer afford to live in the County. This imbalance results in an increasing number of workers commuting into the region. According to the Mountainland Association of Governments' 2015 Consolidated Housing Plan, the current unmet need for affordable owner and renter-occupied housing in the County is at least 1,000 units.
While the Snyderville Basin Development Code requires an affordable housing contribution, the marketplace is not keeping pace with the demand. Summit County Manager Tom Fisher stated that, "While we welcome employment growth and a healthy economy, our local law enforcement, fire fighters, teachers and local government employees struggle to afford to live in Summit County." Fisher added, "These are the individuals on whom we rely to educate our children, respond in a crisis, and provide services. Having them drive long distances to get here only contributes to our traffic problems and worsens our air quality."
The Cline-Dahle parcel represents a strategic purchase due to its location. Situated off Rasmussen Road between Jeremy Ranch Elementary and the Summit Business Center, the property easily connects to transit and trail systems. The unique characteristics of the Cline-Dahle property make it suitable for a variety of uses including workforce or affordable housing, a park and ride intercept lot, a transit center, recreation, habitat conservation and/or other community uses.
Early in the process, Summit County secured a consulting team from the University of Utah to further evaluate the property and refine a number of potential program and use alternatives. Dr. Reid Ewing, Chair of City and Metropolitan Planning at the University of Utah, served as an independent set of eyes in guiding the County to possible program scenarios. Dr. Ewing and his team have substantial expertise concerning transit oriented development (TOD).
During the past nine months the County has actively worked on property due diligence. Staff has also been meeting with local concerned interests including meetings with potentially impacted parties, to better understand their concerns and interests regarding possible uses and programming of the property. To date the County has met with the following groups: Jeremy Ranch HOA Board Members, the Park City School District; Jeremy Ranch Elementary School officials, Summit Center Owners LLC, Snyderville Basin Recreation District, Habitat for Humanity; Deer Valley Resort, Vail Resorts, Park City Municipal Corporation, Utah Department of Transportation, Mountainlands Community Housing Trust, Park City Realty Group, and the Weber Basin Water Conservancy District.
Following the purchase, the County will be required to comply with the permitting processes contained in the Snyderville Basin General Plan with respect to any uses contemplated on the property. Fisher stated that "As we look to entitle the property, we will go through the exact same process as anyone else in the County, which also involves a public process such as Public Hearings through both the Snyderville Basin Planning Commission and the County Council." He added that, "When the exploration phase of the property is complete, we will make the final determination about what happens to the property through this same public process."
Summit County Council Chair Chris Robinson said, "At the end of day, it comes down to which fork in the road we want to take. If we do nothing and depend only on the market to respond, the problems will continue to escalate." He concluded that, "If we develop and manage the asset correctly, it could improve the quality of life for all Summit County citizens."
If someone wrote "I live in Park Citie," would you care? Would it influence your opinion of him. Does it matter if he doesn't spell city correctly?
If your government did the same thing, would it influence your opinion of them? How about your local newspaper? Do they have to get it right?
As many people are aware, Park City Municipal has inked a deal to purchase Bonanza Flats for $38 million. That's a big win. The only problem is that Bonanza Flats doesn't exist. It's actually called Bonanza Flat. It's not a series of flats; it's only one.
Before you think that the Park Rag is just stretching to write something on a random Wednesday, this is somewhat of a hot topic within parts of the community. Emails and letters from citizens have been fired off to city officials and the Park Record over the years. It appears the requests to "get it right" have fallen on deaf ears. Most references in city documents still call it Bonanza Flats. In fact, the official Bond Facts document for the $25 million "Bonanza Flats" bond (produced by the city) incorrectly call it Bonanza Flats. All references we could find in the Park Record do the same. Only KPCW had it correct.
So, how do we KNOW it's Bonanza Flat (and not FLATS) and why do we care?
Let's go back to the magical year of 1940, when Park City was still known as Sin City and prostitution reigned (oh, those were the days). The United States Department of Interior had just produced a document called Triangulation in Utah 1871-1934. On pages 22 and 23 it directly calls out Bonanza Flat (not Flats).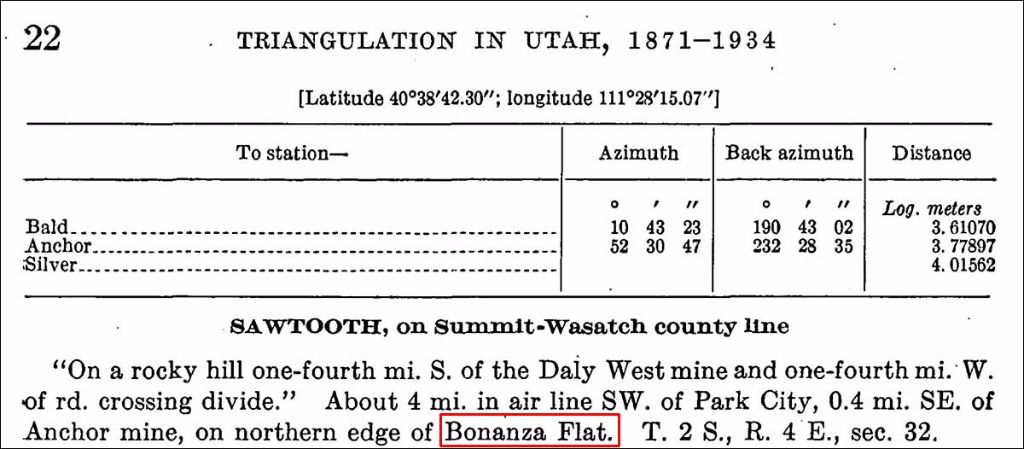 So for almost 80 years, it has been called Bonanza Flat by the US Government. What about today? If you have a US Geological Survey (USGS) topographic map, this is what you would see: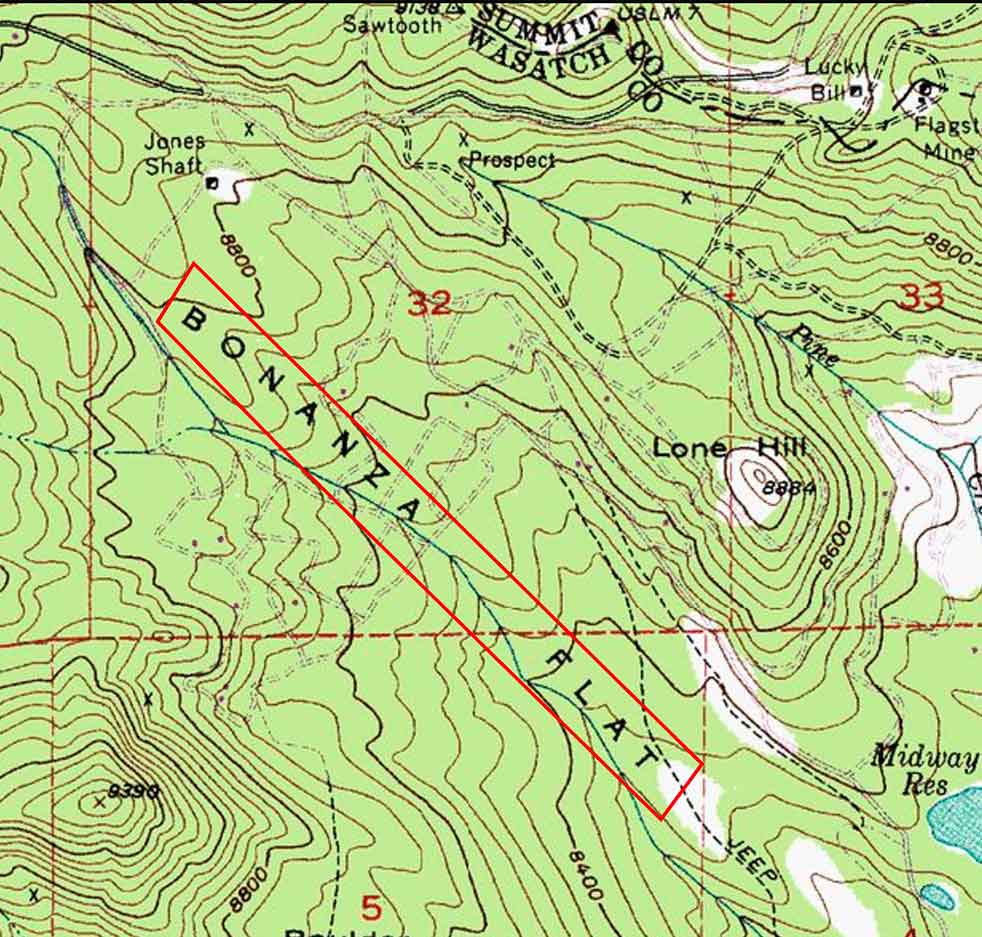 The point is that the real name of the land is Bonanza Flat. Because of Park City's purchase, this piece of land will be discussed endlessly over the next year. Why not use the right name?
Some people don't care about the semantics. That's OK. However, some people who have shaped our community for decades do. They feel that each individual piece of our history matters, and if it is lost, it will likely never be regained.
From the Park Rag's perspective, now that we know it's Bonanza Flat (sans the s), we can't believe the city used the wrong name in an official bond mailing sent to all Park City residents. It took our little blog almost 10 minutes to find the official name.
We hope the powers that be reconsider and start using the right name going forward. It's not only correct, but it's respectful to some of those who care deeply about our history (and getting things right).
This week's snow storms have highlighted an issue. One of the plans for Pinebrook and Jeremy Ranch are two massive roundabouts as traffic enters and exits I-80. The county and UDOT have been working on this for a while and have detailed ideas about how the round about should work. We trust their experience on this.
However, they may not see the alternate use for the Jeremy Ranch exit as traffic heads towards Parley's Summit.
The Jeremy Ranch exit is a defacto chain-up area for semis. Trucks approaching the summit exit at Jeremy Ranch and then either pull off the road or go straight up the on-ramp. There they stop and put on chains.
With a roundabout, it may no longer be possible. If it is possible, it will introduce another variable into a snowy, and often treacherous, commute. If it's not possible, the question becomes where will semis chain up?
Hopefully they'll choose a spot on the east side of Park City. If they don't Parley's will become an even bigger mess on snowy days.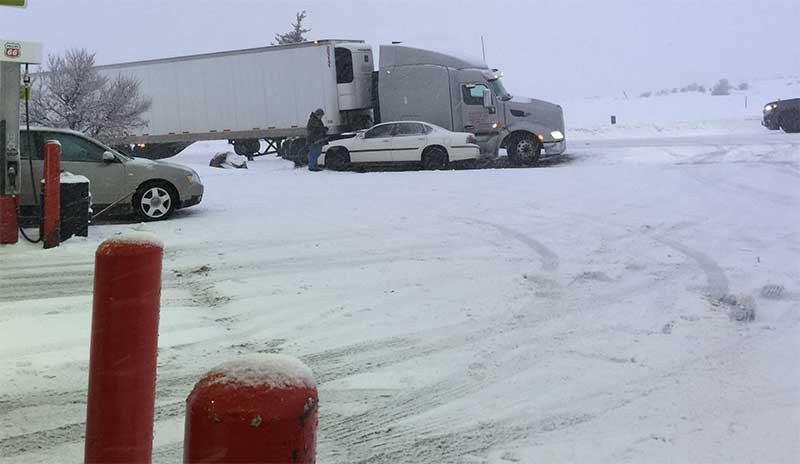 h/t to the friend of the Park Rag who suggested this story
Yesterday, the family and I decided we were going skiing at the Canyons. There was a Winter Storm Warning, which I suppose, is the perfect time to ski.
I asked, "should we take the bus?". I feared traffic. I feared walking a mile to the Cabriolet lift with two small children.
We decided YES … as long as we could meet the bus schedule.
We decided to drive into the Kimball Junction Transit Center from Jeremy Ranch and take the bus from there. There is always plenty of parking there and it avoids the painful route back to Jeremy Ranch through Pinebrook.
We imagined the ride in, the short walk from the 7-Eleven to the Cabriolet lift. Heaven.
So when does the bus arrive at the Kimball Junction Transit Center? Good question. I pulled out my trusty "My Stop Mobile" app provided by Park City that shows transit schedules, where each bus is, etc. I pulled up "Stops" to see when the bus arrives at the transit center. It said the outbound stops would be at 23 and 53 after the hour. Outbound didn't seem quite right… it seems I wanted to head IN to Park City.
After a few minutes fumbling, I went to "Routes" on the application. From previous research, I knew I wanted the 7 Pink West bus even though I wasn't really heading west. From there I zoomed and finally found what appeared to be the Kimball transit center. There are two icons there almost on top of each other. I found that by zooming way in and then clicking on each of them, one of them seems to be outbound and one seems to be inbound. Ahhh, inbound seems right. By clicking on it, I found the bus stopped at 43 and 13 after the hour.
Ok, now we knew when we needed to be at the transit center and we headed out.
Unfortunately, we missed the bus by about 1 minute. We saw it pulling into the transit center and knew there wouldn't be enough time to get on it. Missing the bus was our fault… or we could have waited a half an hour for the next bus. Or maybe there is another bus going to the Canyons that would have been workable but I have no idea how I would know that.
So, we drove to the Canyons and found semi-close public parking. It was a little walk but not as long as I had worried about. We were still at least 10 minutes ahead of when the bus would arrive (It winds through neighborhoods between the transit center and Canyons).
The drive and parking weren't too bad.
Leaving the resort, we had no problem with traffic either. In the back of my head I also thought, "thank god I didn't have to plan leaving based upon the bus schedule of every 30 minutes." One less headache.
When will I consider riding the bus again? Maybe next year once I forget this experience. Why would I go through that effort? Maybe if I want to go to PCMR on a Saturday, when parking fills up by 7:00AM.
So, as a reader, you might take this as further whining about the buses. That's not the intent. In this case, I wanted to highlight the issues, and there are a lot of them to be solved, with an average Parkite in Snyderville Bason taking the bus to go skiing. If you are on a bus route in Park Meadows I could see how the bus might work for you. If you rarely ride the bus from the 'burbs, not so much.
There are a lot of moving parts, that don't make a lot of sense, and are hard to maneuver. People don't like hard.
I went to extraordinary lengths to try it out. I believe most people would have quit when they couldn't have found the inbound timetable or they would have written it off forever when they confused the inbound for outbound route and were told they had the wrong bus and they had to wait longer.
As I think about the experience, I think there is more to it than the plans to increase bus frequency using the sales tax increase. A frequency increase MUST happen but there is more to it than that, if the city and county want to get me out of my car and on to a bus.
The whole process has to be re-thought if our government actually wants to substantially alter adoption rates. They have to make it easy AND give me a reason to ride the bus (maybe those incentives Ellen Sherk wrote about).
However, it looks like they lost me for 2017. There is aways next year.
Longtime readers are probably aware of our interest in the self driving car. Self driving cars don't text like a driver does — they are always paying attention. Self driving cars optimize the distance between the car in front of them. Self driving cars maximize the efficiency of cars on the road.
We feel self driving cars are part of the long-term solution to Park City's traffic problems. It looks like Google's subsidiary, Waymo, is launching its fleet of self driving cars this month in Mountain View and Phoenix.
That is why we often look at initiatives proposed by the city and county as short-term. They seem to be spending a great deal of money on solutions that will work sometime in the future (i.e., when we will supposedly all park-n-ride and take the bus) but ignores that we will never use those solutions because the future will supersede those ideas (and we won't ride the bus in mass).
Will self-driving cars be ready to handle complex Utah winters in 5 years? We'd wager it won't.
How about 10 years from now? We'd wager that it's getting close. Ten years ago, the iPhone and Facebook were both launched (we'd argue that those technologies have transformed EVERYONE's lives). Imagine what happens in ten years when technology and car companies are focused on it.
How about 20 years from now? Yes (for most people). Remember 1997? The Yellow Pages were BIG and innovation didn't move like it does now.
And that's the issue. The solutions our government seems to be making now, based on 20th century ideas, better work now or in the next couple of years. If they don't, we will likely have made the best buggy whip imaginable.
If our plans don't include the extreme likelihood of self driving cars in them, then we are missing the boat.
Where is your car going to park itself after it drops you off at PCMR?
Yes! Finally a use for Richardson Flat.
Sappy? Yes.
Beautiful? Yes.
True? Yes.
More Seattle than Park City? Yes.
I used to get regular flu shots. That is, until my father in law received a flu shot that damaged his rotator cuff. He had gone to a pharmacy and the pharmacist gave him the flu shot too near his shoulder. He couldn't raise his arm above his head for almost two years.
So, a few years have passed since I received one. However, after having a bad case of the flu, I decided I should take precautions against other strains. So, my family and I tried the Summit County Health Department. It was the least painful shot I have ever received. The person administering the shot was friendly. She handled my kids perfectly. She even had stuffed animals and hot wheels as rewards.
If you are planning on getting a flu shot, and haven't, you may want to give them a try. They are at Quinn's Junction. It's a little confusing because the main sign says "People's Health Clinic" but that's the building you're looking for.
Also, give them a call before you go. No appointment is necessary and they usually offer them between 9Am and 4PM… but call to make sure they are available that day.
Here is the phone number:
435.333.1500
The address is:
650 Round Valley Drive, Park City, Utah 84060
We received an email from current Park City Biology teacher and former Park City Education Association Co-President, Ed Mulick. He wanted to provide additional clarity on teacher salaries. His email did a great job educating us on Park City teacher and salary benefits. If you are interested in the topic, we would recommend reading Mr Mulick's email below:
The figures in Utah Right to Know can be misleading but they are correct.
Below is the link to the salary schedule determining the amounts Park City teachers receive in their paychecks. Check it out. For better or worse, it is a compromise between a more traditional teacher schedule and an incentive based contract.
http://www.pcschools.us/index.php?page=204&showfile=thefile&rowid=335&noattach=1
In addition to the base salary shown in the salary schedule, school districts are required to pay additional costs to fund teacher retirements (22.19%), a 401 K (1.5%), and FICA (7.65%). The district also provides a shared-cost health insurance package to full-time employees.
According to a benefit study done by ArthurJ. Gallagher @ Co., commissioned by PCSD in 2015, the average Park City teacher had 10 years of experience, held a Master's degree, one endorsement, and received a base salary of $60,955. This average Park City teacher salary of $60,955, when compared to other teacher salaries, was the highest in Utah. The second highest average teacher salary was in Salt Lake City District at $57,364.
Due to Park City's ski industry and higher income and property values, some socioeconomic factors are unique to the Park City School District. For this reason the Gallagher study also compared Park City to six out of state districts including Bend, OR, Sun Valley, ID, Truckee, CA, Breckenridge, CO, Aspen, CO, and Jackson, WY. When compared to these other out of state districts, the average Park City teacher salary came in fourth. The highest average teacher salary of these six districts was in Truckee, CA at $70,506, the second was Jackson, WY at $67,075, and third was Hailey, ID at $63,231.
One reason Park City School schools have a culture of excellence is because the best and brightest teachers were originally attracted to this district because of competitive salaries.
PCSD students regularly score higher than the state average and the national average on SAT and ACT test scores, a large percentage of our student body takes advantage of AP classes (over 1000 AP tests were taken by students last year), our pass rate is higher than the national average (81% in PC versus 54% nationwide) and our graduates get into the best colleges in the nation. Park City schools also offer unprecedented opportunity and support for English language learners, special education students, artists, musicians and athletes.
These numbers are especially impressive when you consider we are a 3A school district.
These results are not by accident. Our district's teacher training lasts three years in which a teacher is constantly evaluated to see if they meet the standard of Park City School District. Even after our preliminary three-year period, the expectations remain high for ALL teachers. The majority of PCSD teachers are constantly seeking to refine their skills.
In addition, Park City Schools are filled with other professionals, such as nurses, counselors, librarians, social workers, and paraprofessionals who all positively impact the learning of the whole child. The vast majority of teachers in this district are hardworking, putting in many hours of overtime. The same is true of our administrators. We take pride in our work because we care about our students.
Thanks,
Ed Mulick
Park City Teacher
* It should also be noted those teachers making top salaries were receiving a $5,000 state funded stipend for teaching math or math-based classes like chemistry or physics, and/or were teaching additional classes, and/or were receiving USTAR money for teaching summer school, after-school tutoring sessions, or after-school science labs.