It's been a weird couple of months. But I have to ask the question…
Do you want to get back to what Park City was before?
Traffic. People. Crowds. Anger.
I know that many people made a business off of what it was.
However, the question I have is whether we collectively want to go back if we could.
Do you want 10,000+ people from SLC coming up for July 4th? Do you want the Silly Market if it crowds our town? Do you want both winters and summers packed wall to wall?
Yes, I understand that the concept of "the Park City Lifestyle" is thanks to others.
Yet, as a local, I am not sure I want to go back to it. There are plusses and minuses but we don't have to go back. It's our choice. It's our future.
It may be time for Park City's next phase.
And like a light-switch, it turned back on. It's as if people had forgotten why they spent the last six weeks in quarantine.
It's crazy out there today.
Parking lots crowded. No social distancing.
Trailheads packed. No social distancing.
Herds of teenagers walking together three inches apart. No social distancing.
Soccer practices going on. I'd like to say 'no social distancing', but seriously… WTF?
The nuance appears to be lost on many people. So, let's write down a date three to four weeks from now. Let's go with May 24th to June 1. If we see a spike in Covid-19 cases at that point, we can conclude that our leaders screwed-up. Yeah, there are financial pressures, but we're playing the long game here.
That said, perhaps case numbers won't accelerate at that point. If so, maybe social distancing isn't so important anymore, and we can go back to licking the handrails at Redstone 8.
If I had to bet, I'd bet on the former. Just like the Powder Buoy in the winter, seeing what happened today tells me a storm is coming in a few weeks.
Ding-dong the Witch is dead.
Which old Witch?
The Covid Witch
Let's open up and ring the bells out
Let them know the Covid witch is dead!
How exciting. First, the Governor told me everything was OK and I didn't need to worry about that pesky corona virus, and now the Summit County Council has voted unanimously to tell me that I need to get out and congregate, shop, and spend money again.
I was really feeling bad for Summit County. They were in the hole for like $10 million dollars. Was that round-about at Jeremy Ranch actually going to get finished this decade? Now my prayers have been answered. With Summit County's new order, it frees up people from Utah County to come to Park City and tourists from around the world to bring their money and everything else into our fair corner of the world.
Better yet, Thursday the county released a 56-page health order telling local businesses on how to act when they open up less than 18 hours later. I mean, usually, I would recommend some sort of forethought and planning, but I know we need the money. So, bring 'em in.
Just to be clear, I have watched a lot of Kitchen Nightmares with Gordon Ramsey and the number one criticism by Gordon is that a restaurant shouldn't stack the raw bacon on top of the lettuce (who knew?). I totally get that given the health order that every restaurant in town will be able to guarantee the following:
Cleaning supplies must be single use (paper towels, disposable mop heads, etc.) or laundered between every use (dishtowels, mop heads, etc.).
Hand sanitizer will be available immediately outside of bathrooms.
Restaurants, Food Service, Food Trucks, Coffee Shops, Bars, C-stores, and Taverns, including lobbies and waiting areas, must close for cleaning in the morning, between shifts (or every four (4) hours), and evening. Cleaning and disinfecting includes all high-traffic areas, tables, chairs, door handles, phones, floors, restrooms, and any high-touch surfaces.
Staff who handle cash payments will not be involved in the preparation, handling, or delivery of food.
Staff must clean and disinfect frequently touched objects and surfaces. More specifically, staff must ensure that surfaces, table tops, and areas that are used and touched often are cleaned and sanitized between use by members, guest, patrons and customers.
Employee Screening will include taking the temperatures of all employees.
Limit tables to groups of six (6) (unless members of the same household). Adjacent booths can be occupied if there is a minimum 5-foot (measured from the seat) effective barrier between booths. If a 5-foot barrier is absent, booths may be occupied if every other booth is skipped.
Small private events of twenty (20) people or less with reservations can only be accommodated by establishing a minimum 10-foot distance (or physical barrier) between the group and general public.
Maintain at least six (6) feet between seated customer groups, whether indoors or outdoors. Either move tables or mark off tables not to be used.
In waiting areas, a 6-foot distance must be maintained between parties or household groups, whether indoor or outdoor. Waiting areas will have floor markers to indicate proper spacing. Where 6-foot distance cannot be maintained, indoor group waiting areas are prohibited. Weather permitting, food establishments may use outdoor waiting areas with signs and other reminders for groups to maintain 6-foot social distancing. Consider using call-ahead or reservation systems to minimize wait times and stagger arrivals.
Upon entry, hosts point customers to signage that includes the following information: Remind individuals from separate parties to stand at least six (6) feet apart.
When possible, hosts should open doors for customers to help prevent congregating of customers at the entrance, show required signage, and explain operating practices.
Employees who interact with customers or ready- to-eat foods must wear nonsurgical masks or face coverings at all times and perform hand hygiene between interactions with each table.
Do not place utensils on table until customer is seated.
Staff will avoid touching items that have been placed on the table (menus, plates, utensils, pens, cups, etc.).
All customer tables and chairs must be disinfected between each customer or group. A dedicated staff member (not a server or other food handler) must clear and disinfect tables. Do not place tableware until customers are seated. Disposable single-use menus are strongly encouraged. If used, permanent menus must be disinfected after each use.oClose restaurant for cleaning and disinfecting in the morning, afternoon, and evening. Cleaning and disinfecting includes all tables, chairs, door handles, floors, bathrooms, and any high-touch surfaces.
Staff must use gloves when handling ready-to-eat foods (including ice). Gloves are not required when handling foods that have yet to be cooked.
Playgrounds inside or outside of restaurants will remain closed.
Buffet and self-serve restaurants will provide utensils, cups, plates and other service items only from the counter where food is ordered. None of these items will be accessible to the public. Buffet style restaurants will provide servers who will serve the meals from buffet to limit exposure. Customers will not be allowed within six (6) feet of the food serving area. Floor must be marked or barriers provided.
All shared outside dining areas will remain closed.
Customers at a restaurant bar must not be seated within six ( 6) feet of other customers, nor any taps, food, clean glasses, or the bartender work area ("the well"). Seats and stools in this area must be removed or unoccupied at all times if this 6-foot requirement cannot be met.
Condiments must not be kept on tables, but rather given to guests upon request. Condiment containers must be disinfected after each use. Self-serve condiment stations must be monitored and disinfected at least every thirty (30) minutes.
Self-serve drink stations must be monitored and sanitized at least every thirty (30) minutes, especially surfaces where customers touch. Cups, lids, and straws must be given to customers by food employees. Individuals may not bring their own reusable items (mugs, cups). Single-use items (including to-go boxes, pizza boxes, paper cups, and any other paper product that touches food) should be treated like ready-to-eat food and therefore should not be handled with bare hands by employees.
Disinfectants/sanitizers effective against SARS-CoV-2 virus must be available. Chlorine bleach at 100-200ppm is recommended. Use disposable cleaning supplies if possible (towels, mop heads, etc.). Other supplies must be laundered for use each day.
Employees in kitchen areas should practice social distancing whenever possible. Workstations should be arranged so that employees do not face one another. Non-surgical masks or face coverings are encouraged and training provided on the how to appropriately wear them. Whenever possible, staff should be separated into cohorts to minimize interaction between groups. All existing food regulations still apply.
Hand sanitizer must be available at all customer entrances and outside of public restrooms. Hand sanitizer must not replace hand washing by food handlers.oRestaurants will not operate if PPE, EPA- approved disinfectants and sanitizer, soaps, and other necessary cleaning supplies are not available.
Even if your favorite restaurant doesn't understand the nuance of stacking raw pork on lettuce, the restaurant who is preparing your food is definitely going to incorporate those 34 tenants into their business practices by tomorrow. Dine-assured. Hell, they've had 18 hours.
Don't worry though. There is strict enforcement coming tomorrow. According to the county, "The County Sheriff and Chiefs of Police within the County are directed to ensure compliance with and enforce this Order. Notwithstanding such, the purpose of this Order is to protect individuals' health and not to hold them criminally liable. Discretion will be used in the citing and prosecution of violations of this Order." Nothing gives me more faith in the law than when we have some good "Discretions" and "notwithstandings" in the order.
Restaurants are one thing, but what I'm really looking forward to is all the people from the Salt Lake Valley coming up to use our trails. While our Corona-counts started out big, we are having many fewer cases here. We can change that! I welcome all the people from Utah county who have not been practicing social distancing into our community. There's nothing like a unanimous vote from your county's leaders to say, "We welcome you and your money, even if you have Ebola."
All that said, what I am looking forward to even more than Ebola is the Park City Fourth of July Parade. Where else can I get sweat on by strangers who are standing less than 1/2 inch away from me? Even better, most of those people are from Utah county!!! MMMM. Money.
Given the likely increases in Covid-19 (or is it 20 by now?) from these actions, my kids won't be able to go to school next fall. What a blessing. I'll be able to part-time teach them at home far better than any professional who went to 4-8 years of college and/or grad school, and who has taught for 10 years, ever could.
Finally, I am thankful for Sundance, or the lack-there-of. It's a great idea to open our county up in the shoulder season. That way, this summer we can bring in all sorts of infections. Then right about November, the Sundance Institute can conclude that it's too dangerous to hold a film festival in Park City in January. Just think about how little traffic we will have and how empty the wine store will be!
Good times indeed! I'm am just so excited to see how this all works out and how much money we can make! What could possibly go wrong?
---
PSA: All the above joking aside, nothing has changed with the corona virus because five members of the Summit County Council had a vote. There is no cure. There is no vaccine. You've heard about "flattening the curve." That is just an attempt to make sure we have enough hospital beds and ventilators available for those that get sick. It has little to do with your chance of getting the disease — or its impacts.
I believe announcing that we are opening the county is a mistake. I do understand that the pandemic has negatively impacted friends and local businesses. It sucks. How do they survive without customers? My fear is that opening too soon is the death knell. If Christmas and then Sundance is canceled, it will be far worse. My fear is that our actions today will contribute to that outcome, negatively.
Here's hoping we get lucky.
I was perusing Park Record's online version. They are now providing a daily update about Covid-19 cases. In the comments, someone needed clarification about hospitalization numbers.
The Editor of the Park Record, Bubba Brown, responded and provided clarity.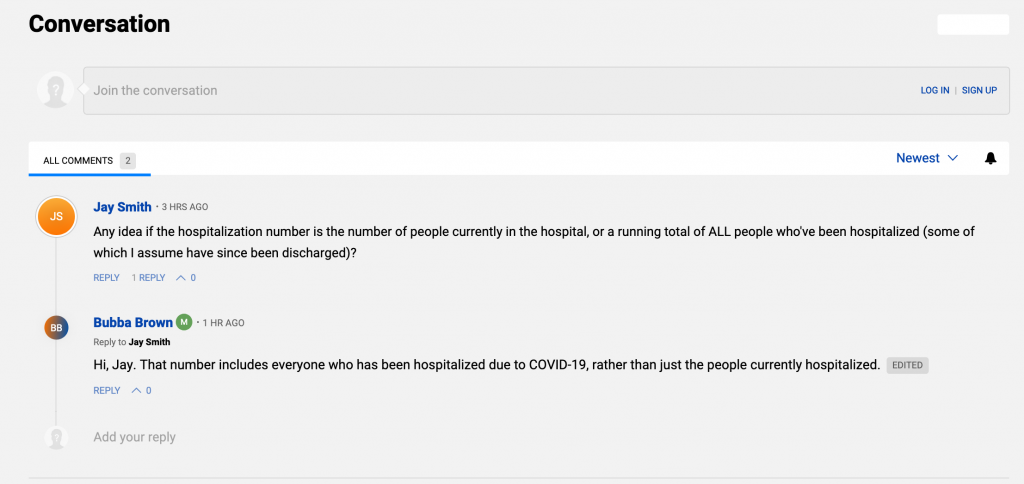 It's what the Park Record should be doing. Having hung around city and county politics for a while, I'll often see Park Record reporters at most meetings, trying to discern the most important parts of the meeting. If they are paying attention, they will be able to provide superb context for discussions.
I'd love to see more of the Park Record's journalists on their site answering questions. It definitely builds community.
One of Billy Joel's best albums is Turnstiles. On that album, there is a track called Summer Highland Falls. One of these days I will analyze it line by line in relation to PC. However, trust me. It speaks to Park City in these times.
They say that these are not the best of times
But they're the only times I've ever known
And I believe there is a time for meditation
In cathedrals of our own
Now I have seen that sad surrender in my lover's eyes
And I can only stand apart and sympathize
For we are always what our situations hand us
It's either sadness or euphoria
So we'll argue and we'll compromise
And realize that nothing's ever changed
For all our mutual experience
Our separate conclusions are the same
Now we are forced to recognize our inhumanity
Our reason coexists with our insanity
But we choose between reality and madness
It's either sadness or euphoria
How thoughtlessly we dissipate our energies
Perhaps we don't fulfill each other's fantasies
And as we stand upon the ledges of our lives
With our respective similarities
It's either sadness or euphoria
Stay strong. We can make it through this.
UDOT posted its top-10 road projects for the year and you are not included. I suppose that's a bit presumptuous. Better stated, if you are in Summit County and reading this then you are not included. Sorry.
if you are waiting for UDOT to fix traffic in Summit County, you can keep waiting. The only thing that seems to fix traffic is a pandemic, which doesn't seem to be the right solution.
If you are interested to see who is getting love, check it out here.
Statistics on the coronavirus show that the elderly are the most likely to die from the virus. However, that doesn't mean that younger people don't get the virus and become sick or pass it on to those that might.
Each day the state of Utah provides updated stats on the impacts. Two of the most interesting are the demographics table and the chart of number of cases versus those tested.
The demographics table below shows that the 25-44 year-old Utahns have the highest percentage of known-infections in the state. That's followed by 45-64 year-olds. It also shows the rate per 100,000 people in Utah. That allows us to account for the percentage of people by age group. In that case, 45-64 are the most afflicted age group.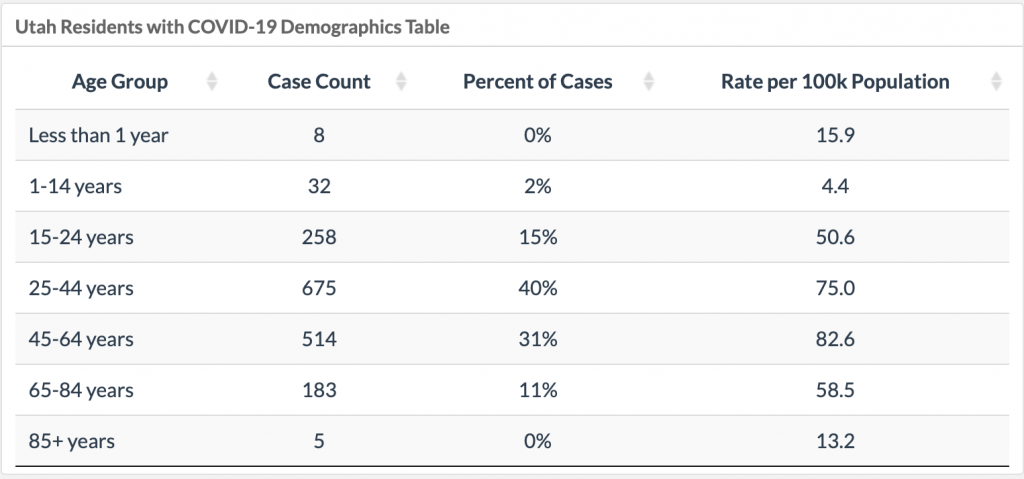 The other chart I find interesting is the number of people testing positive and negative each day for coronavirus. For instance today I read that the state of Utah only had 75 people test positive for the virus (compared to the mid 100's days before). Hooray. Then I looked at the number of people tested. Why is it down so much? Do fewer people get tests on Sunday? Did people leave for Spring Break (even though they are not supposed to)? Are fewer people feeling bad, so they don't get tested? What I hope to see someday is a huge umber of people tested and a very few number of people testing positive.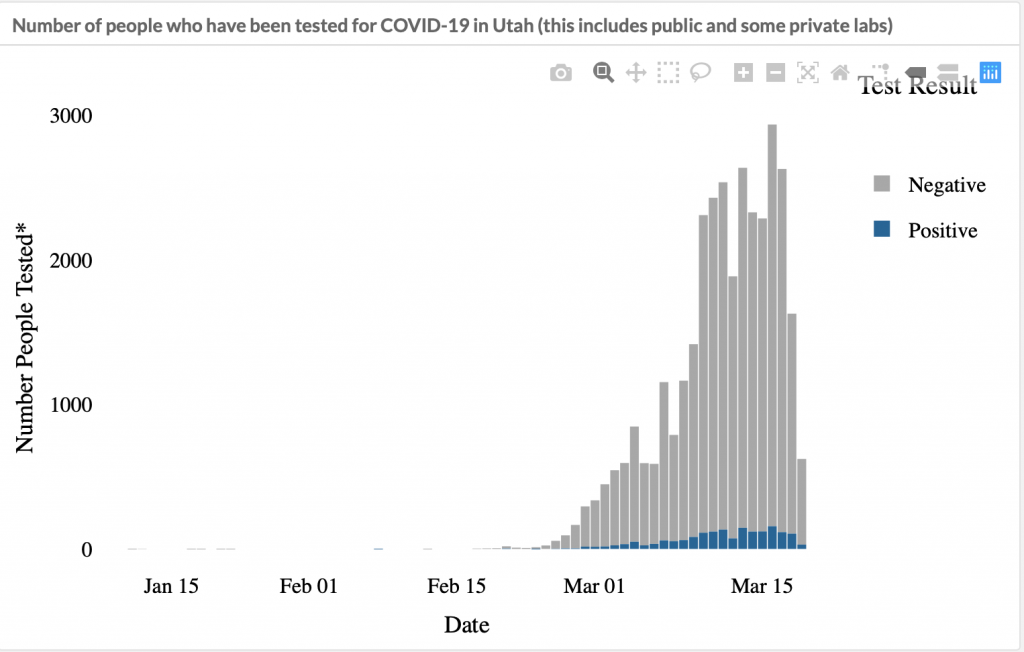 If you enjoy this data, it is available at coronavirus.utah.gov. It is updated at around 1 PM each day.
It's been interesting watching the Park City Schools District navigate Sars-Cov-2. My experience at the elementary level, is that it its been very hard for both the teachers and kids. They really miss each other. It's been tough.
Overall, teachers and Administrators have done a good job given what they have to work with, but it hasn't been easy.
At Jeremy Ranch Elementary, things will be different after Spring Break. They will be using Google Classroom to electronically teach. Previously to the pandemic, physical packets were prepared that students completed each week. Now, it will be more electronic, which is good. The downside is that most elementary teachers will get about a week to master the software and implement it with their classes. What could possibly go wrong?
Yet, per the Utah Governor, the stated expectation is that in-person school will be back in session on May 1. Given the situation on the ground that is unthinkable. The Governor issued a document last month stating that if on April 30, the total number of cases of Sars-Cov-2 in Utah were less than 1,000 we may get back to normal sometime in May. Yet, we surpassed that number on April 2. As of April 5, we are at 1,605 cases. Things are not going to get back to normal in May.
Then, according to KPCW, "Park City and Summit County's own economic recovery task force has been working on a plan that mirrors the state's, which estimates businesses might begin operating normally again come September at the earliest."
If businesses are not operating normally until September AT THE EARLIEST, then neither are schools. Is even September too optimistic? Maybe.
If you haven't read the AP column by Tim Dahlberg entitled Virus will make the timeline for sports, too, putting cloud over NFL season, you may want to read it. He highlights what will be needed to get people back into sports stadiums this Fall. "Imagine going to an NFL game in September. Do they scan your forehead when they scan your ticket? Will you have to present evidence of a negative virus test? Do you really want to sit next to a stranger and worry for three hours about what he or she might be carrying?"
He brings up interesting points. What about schools?
Will every school screen each child at the door for fever? Will they require proof of a virus test? If a class has a student that becomes diagnosed with coronavirus, will the school be shuttered? It's too nuanced to work.
No, they will keep schools closed until it is socially acceptable to open them.
Will that be on August 20, 2020? If you are a parent, you are hating me for even writing that. However, it's not crazy to think that the first day of in-person school will be sometime later in 2020. The truth is that no one knows. However, it is becoming obvious that the date isn't in less than a month.
It is important that Park City School Superintendent Gildea let Park City's parents and teachers know school will be "remote" for the remainder of the school year. As parents, we are being forced to make choices by our employers. Those choices are partially based on what the school district is planning on doing. Am I homeschooling through June 4, or should I pick up a full schedule at work on May 1? Any insight on next Fall? Should I be looking for a different job with more flexibility to support my kids going to school?
I can assume teachers are in a similar boat. There is a difference between saying, "plan on getting students what they need for the next few weeks" and "plan on teaching the next six months from your home." What would a teacher do differently if they were planning on teaching the next year remotely? I bet a lot.
The sooner that the school district announces that schools will be ONLINE-ONLY for the remainder of the school year, the better decisions we can collectively make.
Right now parents are in limbo and that does no one any good. Teachers are in a tough position, too. I hope our district can see where this is all heading and provide some guidance.
All I see is that school is out for summer. Plan accordingly. PCSD, as soon as you know about the fall, please let us know.
Google is publishing information about the number of people going to various locations in a community. They are comparing that to their baseline levels before the coronavirus. The good news from a health perspective is that Summit County appears to be way down in visits to locations. That indicates that people are taking things seriously here and staying home.
The bad news is that most businesses in Summit County make money by people visiting there. So, the economy is obviously devastated.
The one glaring omission related to our particular lifestyle is that Google doesn't seem to track trails. So what we know is that people aren't going to businesses. What we don't know is if they are replacing visits to the Alaskan Fur shop on Main Street with overcrowding our trails.
The numbers below as of 4/2/2020 show the decrease from baseline in Summit County, according to Google Mobile Phone information.
---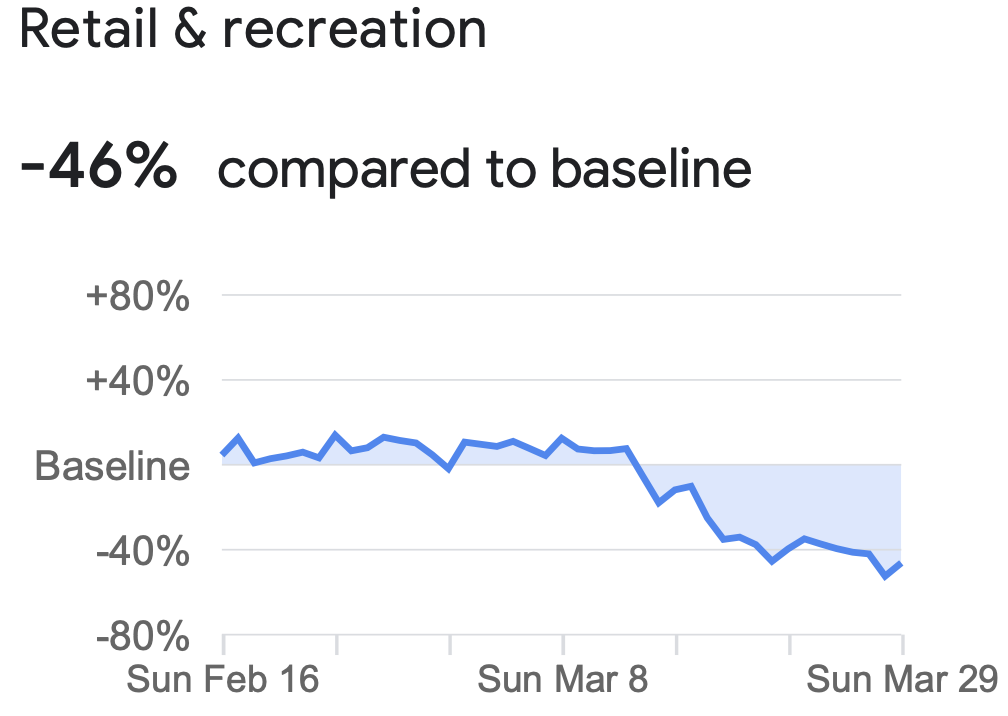 ---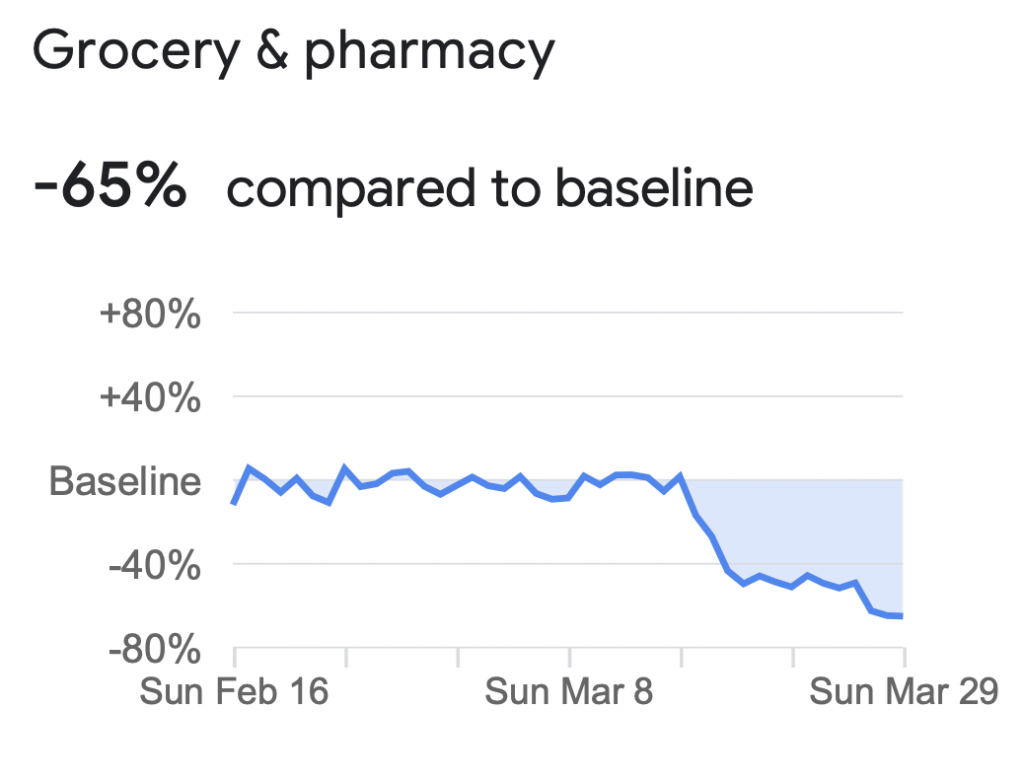 ---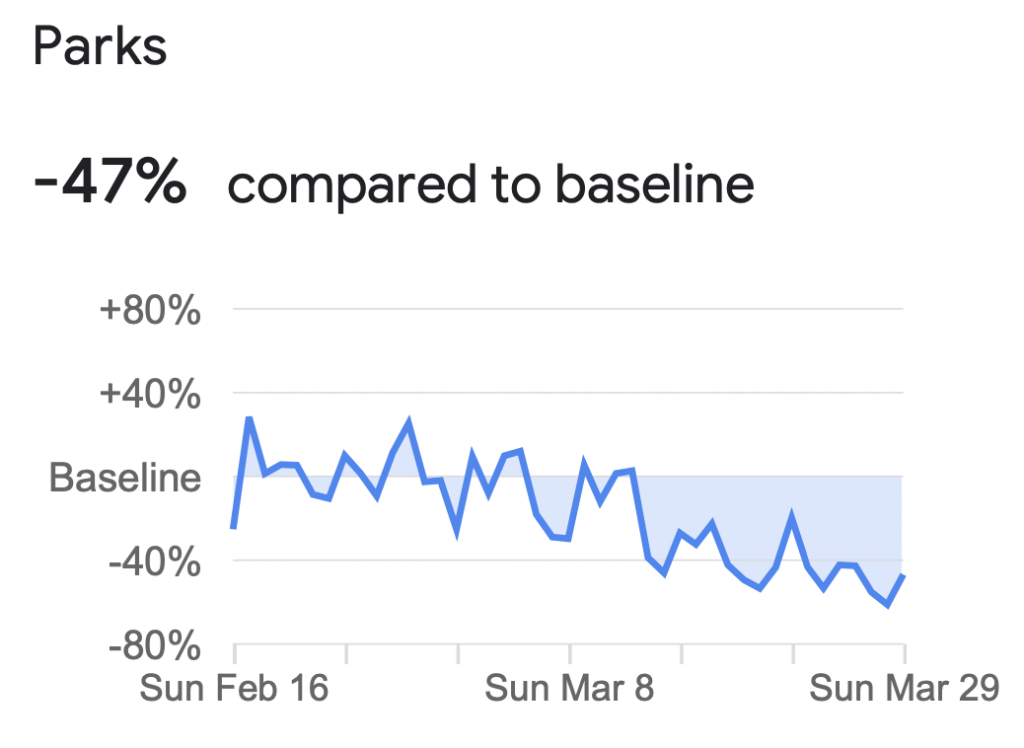 ---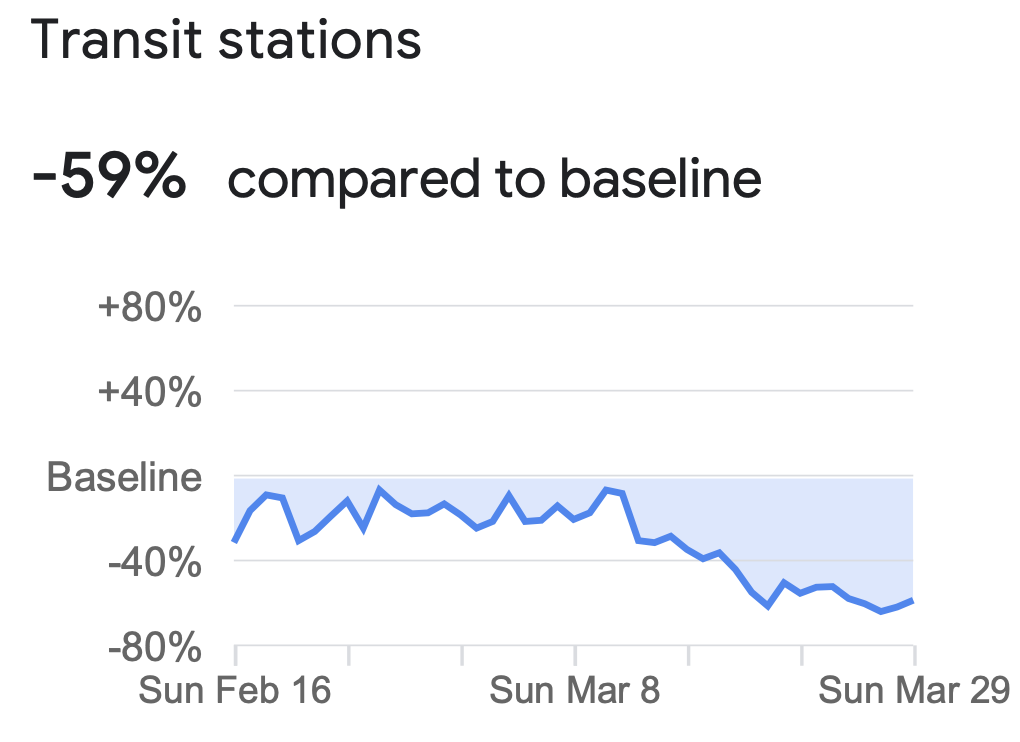 ---