The debate is interesting when it comes to "book banning" in Park City Schools. As many people are aware, the Utah Legislature requires schools to adopt a content policy for library materials that are sensitive. This has led to discussions about what is appropriate in our school libraries.

Two local parents were on KPCW yesterday, talking about why they are concerned about the type of content in Park City schools' libraries. They are being labeled as "book banners" by many. They are called "Karens" by others. However, in many ways, they opened my mind yesterday as I listened to some of their arguments.
With that in mind, I looked at some of the books they are concerned with. Let's just say it was eye-opening. Before this issue was raised in Park City, I would have considered myself a person who would have argued against removing any books from PCSD school libraries. However, this debate has changed that view a bit.
With that in mind, here is the most interesting book I found. It is called Fun Home and is allegedly at the Treasure Mountain's Library (so, that means 13-year-olds and above). It's a graphic novel with a compelling story. It is about a young woman who is gay and her personal growth. It is about a father who is gay and kills himself. It's by all accounts an interesting book. However, it is a graphic novel.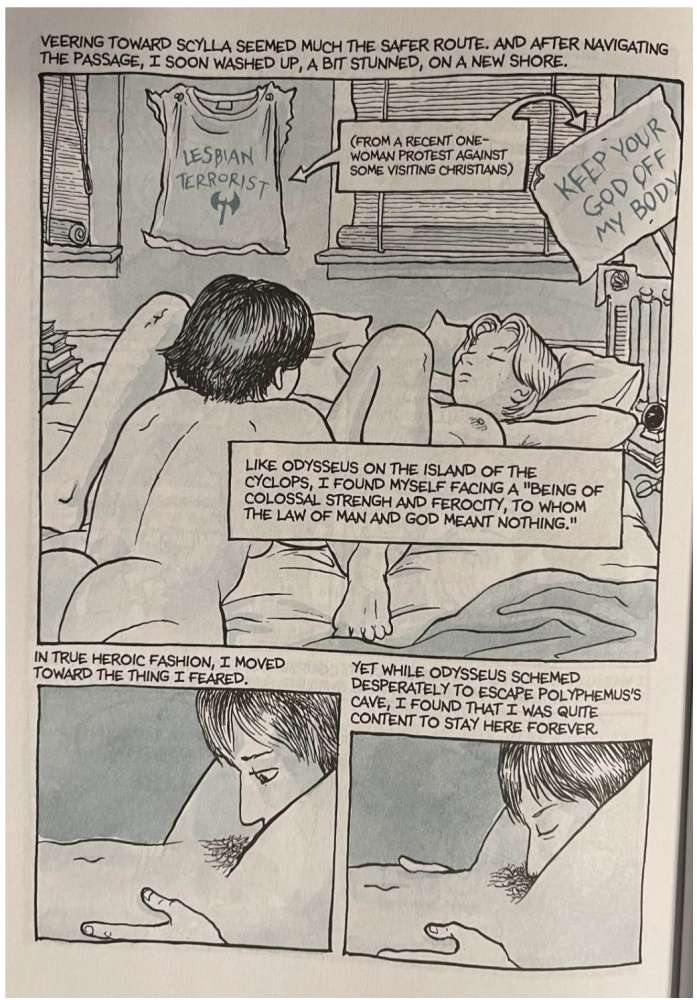 That is just one of many "graphic" pages in the book. Now, should that book be banned? Of course not. Is there anything wrong with what it depicts? No. It sounds like a modern coming-of-age story with complex concepts. Should it be in the Treasure Mountain Junior High library? Probably not.
I think if you believe this should be at TMJH, you also have to be OK with other things. If a student draws this scene in class, they shouldn't get punished. If they submit this in an art exhibition at school, it should be on the walls of the school. If a student wants to wear this image on a t-shirt at school, they should be allowed. If there are similar graphic novels that depict oral sex or anal sex between young adults, those need to be allowed too.
Perhaps I am a prude. If I had grown up in Europe instead of Kansas, would I think differently? I'm not sure. Should this book be banned? No, it should be available at the Park City and Kimball Junction Libraries. I also get that removing books from school libraries is a slippery slope. Where does it stop?
Overall, I don't have the answer. I think we as a community need to find a balance. As Larry Flynt once said, "In 1973, the Supreme Court ruled that individual communities should set obscenity standards. Whenever a case is tried, it will be based on a community standard for that particular place." I believe we, as a community, need to figure this out. But it's a tough job.
However, it's also important for everyone to know we aren't debating whether The Adventures of Huckleberry Finn should be in our school's libraries. It's far more complicated than that.